Server status
DCS version: 2.5.2.19273
SR version: 1.5.2.0
As of July 6, 2018
July 2018
| Mon | Tue | Wed | Thu | Fri | Sat | Sun |
| --- | --- | --- | --- | --- | --- | --- |
| | | | | | | 1 |
| 2 | 3 | 4 | 5 | 6 | 7 | 8 |
| 9 | 10 | 11 | 12 | 13 | 14 | 15 |
| 16 | 17 | 18 | 19 | 20 | 21 | 22 |
| 23 | 24 | 25 | 26 | 27 | 28 | 29 |
| 30 | 31 | | | | | |
Calendar


My UH-60 is still very much a work-in-progress, but I hit a milestone this afternoon.  I hovered it in the driveway to check for vibrations.  With the exception of a small, high-freq vibe in the tail wheel, it seems vibe free.  It may not seem like a big milestone, but this is a huge deal when building model helicopters --particularly ones with more than 2-bladed main and tail rotors.
I hope to have the fuselage pretty much finished up by next week (still needs the stabilator, windshield, HIRSS for the exhaust and a couple of small things.  I hope to have it detailed with markings and some position/nav/anti-smash beacons by the end of August barring any major interruptions.  Stay tuned...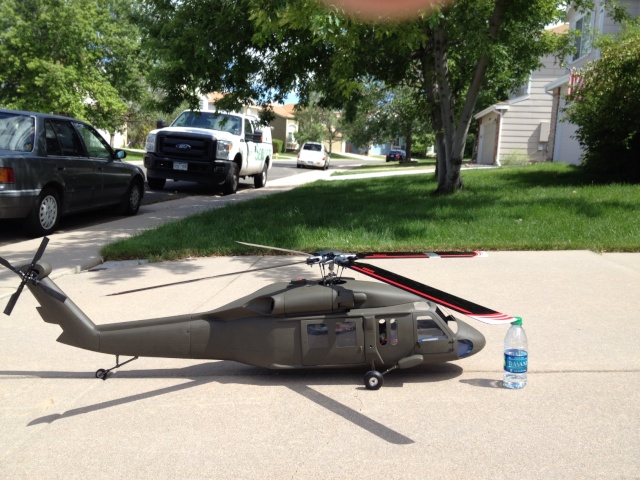 (20 oz. water bottle for scale)
youl be building real ones next Bomb. Thats a great model, well done.

(HHC/229) Strut

Major
Battalion XO
Rated Senior Aviator





Messages

: 1335


Location

: Australia




(D/229) Xtra

Major
Company Commander
Instructor Pilot
Rated Master Aviator





Messages

: 445




(HHC/229) flyer

Major
S1
Instructor Pilot
Rated Master Aviator





Messages

: 1302


Age

: 57


Location

: Titusville, Florida



It needs 229th marks on it. Looks good.

(D/229)Phantom_499

Chief Warrant Officer 4
Rated Senior Aviator





Messages

: 122


Age

: 48


Location

: Mont Alto, Pennsylvania




(B/229) NeF

Chief Warrant Officer 3
Rated Senior Aviator





Killed In Action:

: At least a six pack


Messages

: 940


Age

: 33


Location

: Brussels




(HHC/229) Strut

Major
Battalion XO
Rated Senior Aviator





Messages

: 1335


Location

: Australia



How about some specs?
Radio gear, power plant etc.
I have not flown my R/C stuff for years but have a shed full

Including a 1:5 F4u-1d Corsair I have not built.  Still need to purchase a Zenoa 62 and retracts then find about 100 hours to build the thing.

JayCee




Messages

: 10


Age

: 56


Location

: Melbourne



Okay, as far as specs, it breaks down like this:
Fuselage kit
:  UH-60, epoxy/fiberglass/plywood construction, 5ft (1.5m) nose to tail.
Made by Roban Models, distributed by RC Aerodyne (scaleflying.com)
Mechanics
: Custom carbon fiber frames come with the fuselage kit.  Custom tail rotor transmission as well.  Tail rotor transmission gears are all steel --no nylon/delrin as they had proved to strip in flight.  

  The rest of the mechanics are pretty much stock Align Trex 600 ESP, with the exception of the main drive gear and autorotation hub.  Those are both upgrades from KDE Direct.  (the 115-tooth gear is beefier and handles the additional torque of the 4-blade main rotor head without stripping as the stock Align 170-tooth gear is prone to do --ask me how I know this...)
Main rotor head
: 4-blade, flapping hinge head made by Copter-X and distributed by eHirobo.  (ehirobo.com)  Pretty rare to see a flapping hinge head for a scale model.  Flies great, looks great.
Tail rotor
: 4-blade tail rotor made by cnchelicopter 9cnchelicopter.com)  Not a great tail rotor.  Had to replace the stock pitch links with stuff I had lying around.  But, 4-blade tail rotors are often hard to find it stock, so you take what you can get.  Flies well enough once adjusted.
Motor
: Scorpion HKIII-4025-550Kv with 6mm shaft.  Great motor. Picked it up from Scorpion directly.  (scorpionpowersystems.com)
Motor pinion gear
: 10-tooth heavy duty pinion for 6mm shaft.  Can't remember where I picked it up.  Maybe helidirect.com?
ESC
: Castle Creations HV80.  Great ESC.  Runs very cool in this helicopter.  You can get these anywhere.
BEC
: Castle Creations 20A BEC Pro.  Same as above
Flight batteries
: 2 x Turnigy 5-cell 35C 4000MaH LiPo in series.  I can fly for 6.5 minutes and only drain 50% of these packs.  You can get these fairly cheap from the US warehouses of hobbyking.com
Receiver battery
: Pulse 2-cell 7.4v 5000MaH.  Great receiver pack.  I can fly all weekend on a single charge.  You can get these from helidirect.com
Flybarless controller
: MSH iKON.  You can find these anywhere too.  I get mine from helidirect.com whenever they go on sale.
Receiver
: Futaba R6203SB SBus.  I get these from Ron (ronlund.com)
Transmitter
: Futaba 10CHP.  This has been my trusty pal since 2008.  Great radio, but am looking to maybe upgrade to the 14SG soon.  Only issue is I'll have to manually re-create my models in the 14SG as it uses an SD card and the 10CHP uses the old, proprietary CamPac card. Lame.  

Servos
: 3 x Futaba 9452 for collective/cyclic, 1 x Align DS655 for the tail rotor
I think that's the whole shebang.  JayCee -- you need to get that stuff out of your shed and get building, brotha.  


(B/229) Nage

Chief Warrant Officer 4
Rated Aviator





Messages

: 174


Age

: 39


Location

: Zagreb, Croatia




---
Permissions in this forum:
You
cannot
reply to topics in this forum