December 2018
| Mon | Tue | Wed | Thu | Fri | Sat | Sun |
| --- | --- | --- | --- | --- | --- | --- |
| | | | | | 1 | 2 |
| 3 | 4 | 5 | 6 | 7 | 8 | 9 |
| 10 | 11 | 12 | 13 | 14 | 15 | 16 |
| 17 | 18 | 19 | 20 | 21 | 22 | 23 |
| 24 | 25 | 26 | 27 | 28 | 29 | 30 |
| 31 | | | | | | |
Calendar


Hey fellas, those of you flying with a Warthog, whats the best control scheme to use? I'm not really sure what is pertinent to map and what is not. Need to keep away from kb controls since I'm using the rift. I also have Voice Attack at my disposal collecting dust at the moment since taking a break from Elite Dangerous. Any suggestions are greatly appreciated.

(A/229) Zeebo




Messages

: 6


Location

: San Antonio, TX



Don't know about the most suitable control scheme but this will work fine with the rift with Voice Attack filling in the holes.
I used it with the rift until I returned it.
Several lads in D Coy work with it and seems okay.
You'll need to JSGME a few lua switch modifiers...
Full info in this post
IN THIS POST
YMMV, others will have different views...  Of course alter to taste....!
Here's the kneeboard cards for it.... I noticed that tha APU start switch is missing, I think I put master arm on that one...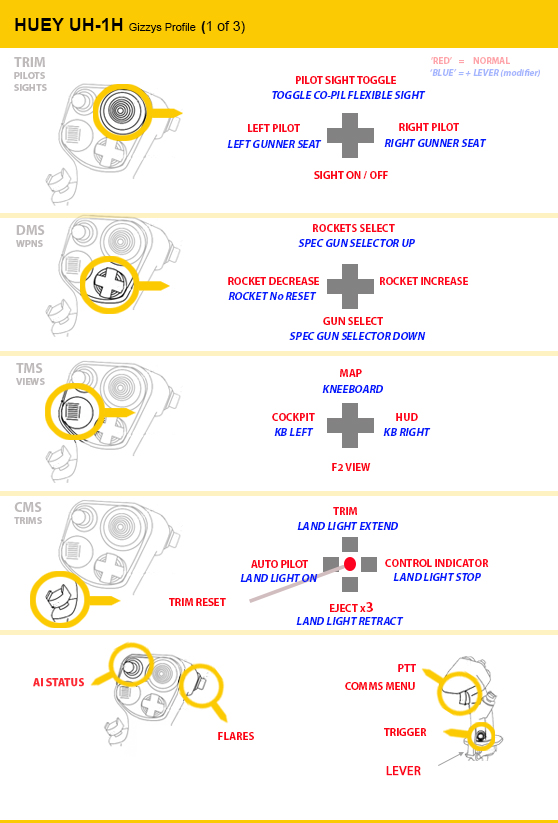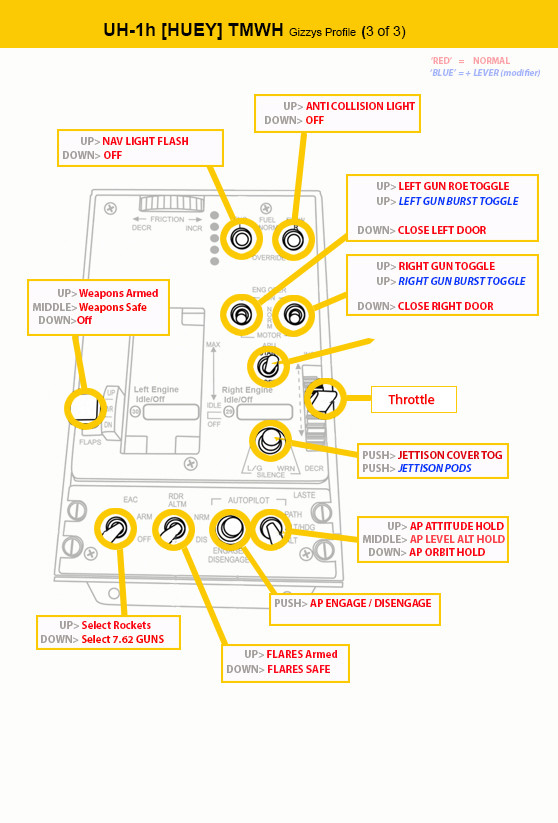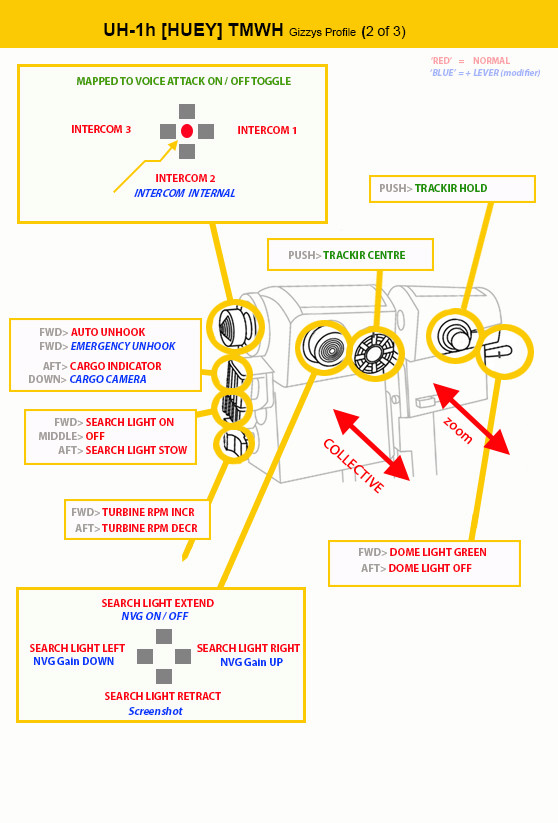 Last edited by (D/229) Gizzy on Fri 07 Apr 2017, 18:10; edited 1 time in total

(B|D/229) Gizzy

Captain
Company Commander
Unit Training Officer
Rated Senior Aviator





Messages

: 688



Thanks, Gizzy! Gonna have to play around with the setup for a bit and familiarize myself with lua files and what not. It appears I don't have the access to the link, though.

(A/229) Zeebo




Messages

: 6


Location

: San Antonio, TX



This JSGME MOD adapts DCS to better handle the DX commands from the TMWH for better use of some switches, it's the same as the standard 229th in the MODS section but with a few more additions..  
229th UH1h JSGME MOD (amended by Gizzy)
STUFF
This zipped file has the kneeboards and a couple of lua files that allow direct import of mappings from your UH1h DCS controls section.  
THIS POST SHOWS YOU HOW
Both FILE links are dropbox.... look for the 3 dotS top right, hit that and select download... sorted...
Of course you do not have to use any of that, just take what you feel is right for you, if anything...




(B|D/229) Gizzy

Captain
Company Commander
Unit Training Officer
Rated Senior Aviator





Messages

: 688




---
Permissions in this forum:
You
cannot
reply to topics in this forum