December 2018
| Mon | Tue | Wed | Thu | Fri | Sat | Sun |
| --- | --- | --- | --- | --- | --- | --- |
| | | | | | 1 | 2 |
| 3 | 4 | 5 | 6 | 7 | 8 | 9 |
| 10 | 11 | 12 | 13 | 14 | 15 | 16 |
| 17 | 18 | 19 | 20 | 21 | 22 | 23 |
| 24 | 25 | 26 | 27 | 28 | 29 | 30 |
| 31 | | | | | | |
Calendar


My mission "Western Adventure V30" is now available on the 229th Server.
The briefing below will hopefully help you enjoy it.
......
SITREP
Red Forces have been driven back from the coast except at Batumi city and Batumi Airfield.
Blue ground forces are attacking southwards, along the coast road, towards Batumi from Kobuleti City
Blue Air fixed wing assets are based at Kobuleti airfield
Blue Rotary wing assets are based at FARP London in the Northern suburbs of Kobuleti City.
Blue amphibious forces with a Helicopter component have landed on Razor beach five miles south of Batumi airfield and moving Northwards with the intention of capturing the bridge over the Batumi River and assaulting the airfield.
Red forces are retreating southwards from Chakva to Batumi. Red units have been observed embarking on ships in Batumi Harbour and loading trains with heavy armour in Batumi Railyard. Batumi Airfield is being reinforced with armour from the East.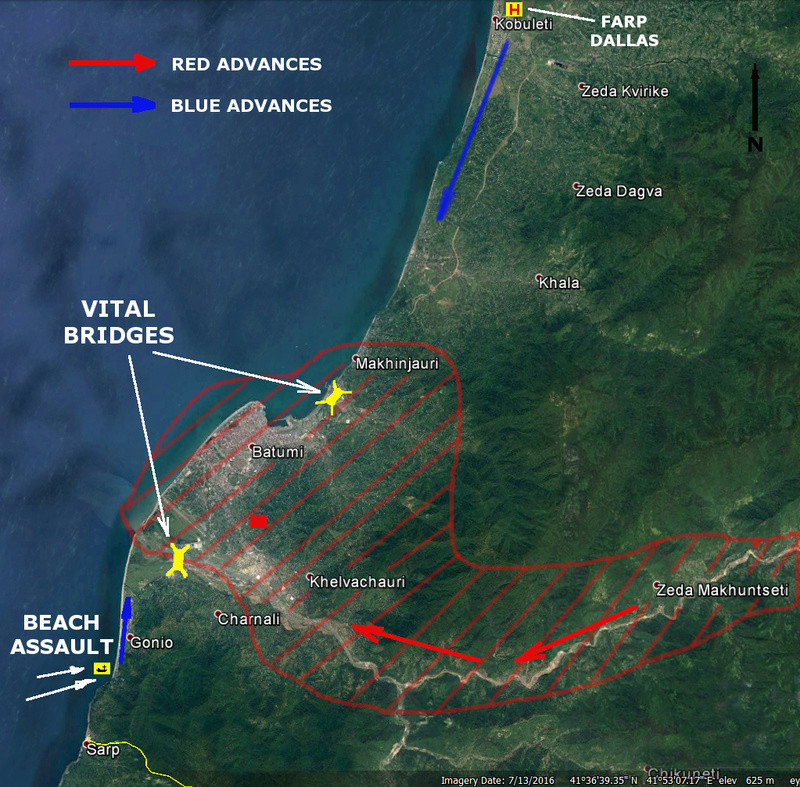 TASK1
Support and supply our forces as they advance on Batumi.
8 Helicopters are based at FARP Dallas these are to undertake a mission to capture the Red FARP just north of Makhinjauri. Three slicks for troop transport accompanied by two gunships should be sufficient. Once the red FARP has been taken FARP Dallas Huey's are to be used to bring in troops to assault the strongpoint on the North end of the bridge just South of Batumi airfield.
TASK2
1 slick and 3 Gunships are available at Razor beach to assault the bridge south of Batumi airfield.
TASK3
Red Helicopters have been observed delivering cargo to two ships in Batumi harbour. Blue command has requested that every effort should be made, by fixed wing assets, to destroy these ships.
TASK4
Tanks and the rolling stock at the rail yards are also vital targets. The Harbour is very well defended with red AAA.                                                  
Friendly Convoys are heading south from FARP Dallas to take Zhauri bridge 2 miles North of Batumi harbour. A10s are to support this advance.
The main aim of your mission is to facilitate the recovery of the crates of gold bullion from the harbour and deliver them to Kobuletti airfield.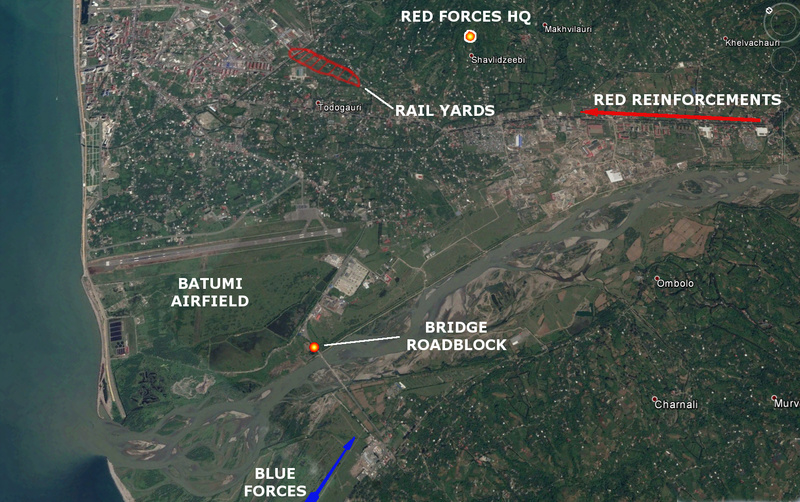 TASK5
To prevent a counterattack from the main red forces in the east, M2000Cs & A10Cs are to attack the 3 road bridges and one rail bridge in LM46 Keypad 9. Enemy SAM battery's covers this area so any attack must be made with a LHL (low high low) profile.
TASK6
Intel has pinpointed the Red HQ (on the hilltop 2 Miles NE of Batumi Airfield)
See image 3. The HQ is NE of the rail yards at 41.36.36N 41.38.52E.
Special Forces can be extracted from Razor beach for an assault on this high value target but only after fixed wing assets have degraded the heavy AAA at this location.
TASK7
Gazelles are based in the hills above the town of Kemal Pasha (Zone GF19)..
These ground attack squadrons are to assist the ground forces in their push across the bridge south of Batumi airfield. A secondary mission is to attack red forces armour and artillery in zone GF29.
There are 2 pieces of cargo at the electricity substation at the river junction in GF29. These 2 cargoes need to be brought back to the Gazelle FOB  in the hills above the town of Kemal Pasha (Zone GF19)
Good luck
Last edited by (B/229) Flick on Fri 05 May 2017, 12:49; edited 1 time in total

(B/229) Flick




Messages

: 119


Age

: 59


Location

: Uk Kent



Looking good Flick look forward to trying it


(B/229) Cib

Chief Warrant Officer 4
Rated Senior Aviator





Messages

: 1084


Age

: 52


Location

: North East England



I love how rich and dynamic the mission is, Flick, from flying a previous version of it with you a while ago. Raining hell on the airfield was a particularly satisfying experience.

It's really immersive -- or would be, if I could get my frame rate under control! I might have to just turn down my graphics settings before I run your missions...

(A/229) Huckleberry

Second Lieutenant
Company XO
Rated Senior Aviator





Messages

: 224



Nice briefing Flick, looking forward to flying it....



(B|D/229) Gizzy

Captain
Company Commander
Unit Training Officer
Rated Senior Aviator





Messages

: 688



Sounds cool, I've enjoyed flying your missions, Flick, this one sound great fun.

(D/229) Flubber

Chief Warrant Officer 2
Rated Senior Aviator





Messages

: 177





Similar topics
---
Permissions in this forum:
You
cannot
reply to topics in this forum