Server status
DCS version: 1.5.6, 2.0.5
SR version: 1.2.9.1/1.2.6.0
DCS OB same version as DCS Stable? Yes!
June 2017
| Mon | Tue | Wed | Thu | Fri | Sat | Sun |
| --- | --- | --- | --- | --- | --- | --- |
| | | | 1 | 2 | 3 | 4 |
| 5 | 6 | 7 | 8 | 9 | 10 | 11 |
| 12 | 13 | 14 | 15 | 16 | 17 | 18 |
| 19 | 20 | 21 | 22 | 23 | 24 | 25 |
| 26 | 27 | 28 | 29 | 30 | | |
Calendar

Maybe an idea to start looking at the appropriate guages

PilotMi8 wrote:The damage of HUEY-engine (due to overheating) now WIP!  

The model will be implemented with the accumulation of overheating (as well as with cooling). In general quite flexible in accounting for overheating and cooling (i hope so)))

(D/229) Gizzy

First Lieutenant
Company XO
Unit Training Officer
Rated Senior Aviator





Messages

: 358




(B/229) NeF

Chief Warrant Officer 3
Rated Senior Aviator





Killed In Action:

: At least a six pack


Messages

: 940


Age

: 32


Location

: Brussels




(A/229) Trip




Messages

: 90



No more ignoring the Master Caution panel for me!

I though this was already modelled or is it just oil pressure?

(D/229) Flubber

Warrant Officer 1
Rated Aviator (MQ)





Messages

: 89



Not sure what is currently working vs. not. As far as not ignoring the Master Caution light, I still would keep temps in check on honor system but I'm sure most wouldn't!

I watched the training vid Gizzy posted with Six speaking and he said he predicts multi-crew by the end of the year! This fix, and multi-crew functionality and we might start having a tough time finding things to complain about. =D

Also sorry about the duplicate thread and thanks for fixing it. I looked at the scrolling display on the left and didn't see anything about it so I thought I was the first to post on the subject.

(A/229) Trip




Messages

: 90



The LOW RPM light is modelled.
Constant excessive EGT is not.
A simple explanation (for RL technical advice speak to any of the IP's) is the quote from the Operating Manual


Operating limits and ranges color markings which appear on the dial faces of engine, flight, and utility system instruments
are illustrated with the following symbols:
R-Red, G-Green, Y-Yellow



RED markings on the dial faces of these instruments indicate the limit above or below which continued operation is likely to cause damage or shorten life.


The GREEN markings on instruments indicate the safe or normal range of operation. The YELLOW markings on instruments indicate the range when special attention should be given to the operation covered by the instrument.


Throttle and collective coordinated control movements must be smooth to prevent compressor stall, overspeed, over temperature or engine failure. Closely monitor gas producer (speed) (N1), power turbine (speed) (N2) and exhaust gas temperature (EGT).

Model engine failure for overheats will make all of us think more BUT ESPECIALLY GUNSHIP Pilots.
All will have to TOTALLY change the way we monitor the instruments.  It will be radical change with severity dependent on the failure model.
If you want a test, sign into the Open JUNGLE and jump into D Company's TIGER 1-1.  It is hot start by default.
This airframe is configured with


2x M134's, 2x XM158 7 RKT pods & 2 M60 door gunners.  

FUEL is 80%

Total Weight being 4145KG.

MAX PERMITTED weight is 4310KG.  
Airframe configured at 96% of MAX.
Air Temp is 30°C.
Altitude is 25m.
QNH 29.92
NOW TAKE OFF AND MONITOR THE GUAGES, KEEP THEM IN THE GREEN.   You will have to 'fly' the bird rather than pull the collective up to the armpits...



Your limits are CONTINUOUS > 610°C
                   30 MINUTES  <610°C >625°C
                   MAX             760°C
I think a few will be moaning at MIZ designers putting in 30°C temps and hills.... now where are those performance charts, we WILL be needing them ha ha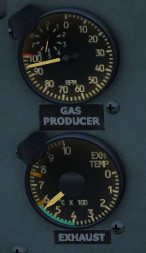 Last edited by (D/229) Gizzy on Sat 20 May 2017 - 6:19; edited 1 time in total

(D/229) Gizzy

First Lieutenant
Company XO
Unit Training Officer
Rated Senior Aviator





Messages

: 358



That sounds fantastic to me, the way it should be! Damn am I itching to get flying with you guys. I'm getting close-ish but definitely not airworthy yet.

(A/229) Trip




Messages

: 90




Similar topics
---
Permissions in this forum:
You
cannot
reply to topics in this forum