December 2018
| Mon | Tue | Wed | Thu | Fri | Sat | Sun |
| --- | --- | --- | --- | --- | --- | --- |
| | | | | | 1 | 2 |
| 3 | 4 | 5 | 6 | 7 | 8 | 9 |
| 10 | 11 | 12 | 13 | 14 | 15 | 16 |
| 17 | 18 | 19 | 20 | 21 | 22 | 23 |
| 24 | 25 | 26 | 27 | 28 | 29 | 30 |
| 31 | | | | | | |
Calendar


Thanks to Dabomb the 229th servers have been updated and are running including Simple radio. Please pm me if you have missions or need help running SLmod.

(HHC/229) GunfighterSIX

Chief Warrant Officer 4
Battalion Standardization Instructor Pilot
Rated Master Aviator





Messages

: 861


Age

: 36


Location

: VA, USA



Yes  Thankyou Dabomb for the Server's !!
I do realize you are a busy person and I do NOT mean YOU have to do all the Work.  If we can help please let us know.
May I make  a suggestion or two ?
(

#1

)
Under each server's information:     
1a)
Update what the "Required Mods" are.. (there is nothing at the moment)
(example)---> "229th STABLE & ALPHA 00 thru 09"  As of xxxxx DATE"   
1b)
Update any Suggested Mods (or delete) 
1c)
Keep Server Specs--update as necessary ( good idea) >
(#2)
When in one of the Servers, can we update the mission' Listings that we  are currently using AND delete the missions that have been "Adjusted"....
** THIS WILL BE AN SLMOD CONFIG & MISSION LOCATION FUNCTION.  (( * I 'm guessing you have all the missions in a DropBox ))
I noticed there are at least two missions that have version 2.0  AND 3.0 ( or similar such as 1979-4    1979-5    1979-9,  etc)
I'm also suggesting that the Mission list be limited to 25, so the TEXT BOX doesn't get over run with mission's when performing the   -ADMIN LOAD function.  This way ALL the missions can be seen in a single Text box....as seen below.
I do realize the Text box can be "resized" but it might be at the largest available format at this time.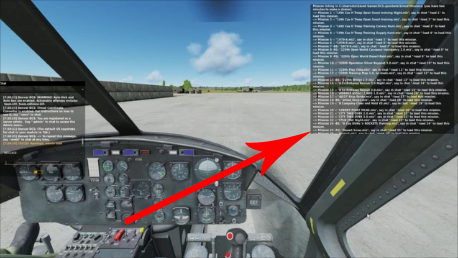 (#3)
Lastly, are there any SLMOD Admins that need pruning  ? Folks we haven't seen in a long time probably don't need the Admin rights.
Again THX  for the Server's and if WE can assist, please let us know.The SLMOD 7.2 Manual ( pdf) is here
  SLMOD V 7.2  
 if you don't already have it.
Hawkeye

(A/229) Hawkeye

Captain
Rated Senior Aviator





No. of Flights:

: 764-(on 229th Servers)UH-1H only (not updated...2016)


Killed In Action:

: Lots... :O


Slick No. of landings:

: Always Landed


Messages

: 169


Age

: 56


Location

: KBTV



i Can work on that after work tonight.

(HHC/229) GunfighterSIX

Chief Warrant Officer 4
Battalion Standardization Instructor Pilot
Rated Master Aviator





Messages

: 861


Age

: 36


Location

: VA, USA




(A/229) Hawkeye

Captain
Rated Senior Aviator





No. of Flights:

: 764-(on 229th Servers)UH-1H only (not updated...2016)


Killed In Action:

: Lots... :O


Slick No. of landings:

: Always Landed


Messages

: 169


Age

: 56


Location

: KBTV





Similar topics
---
Permissions in this forum:
You
cannot
reply to topics in this forum