December 2018
| Mon | Tue | Wed | Thu | Fri | Sat | Sun |
| --- | --- | --- | --- | --- | --- | --- |
| | | | | | 1 | 2 |
| 3 | 4 | 5 | 6 | 7 | 8 | 9 |
| 10 | 11 | 12 | 13 | 14 | 15 | 16 |
| 17 | 18 | 19 | 20 | 21 | 22 | 23 |
| 24 | 25 | 26 | 27 | 28 | 29 | 30 |
| 31 | | | | | | |
Calendar


Welcome guest!
If you are an avid Huey fan and would like to join the premiere Huey virtual squadron then you came to the right place.
HISTORY OF THE 1ST CAV DIV
The 1st Cav Div was founded by Blackjack on 16 Jul 2013. The squadron started with a small group of 5 members representing Europe, Asia, and North America. At the present time we have grown to over 100 members, with about 20-30 members flying in the servers regularly.  We are now an international squadron with three companies serving North America, Europe, and Asia. The idea is to have a group that's active 24/7 so you are never flying alone.
MISSION OF THE 1ST CAV DIV
Our mission is unite people world wide who love the Huey (and other Helicopters) and would like  to experience the joy and exhilaration of flying in a formation as they approach a hot LZ dropping troops in an air assault. We are constantly designing missions to challenge our skills and provide hours of fun and excitement to our flying experience. We have mulitple helicopter and fixed wing pilots pilots who spent time as instructors and line pilots, that are available to train even the most novice helicopter pilots. You'll be flying like a real helicopter pilot in no time.
OUR PRESENT STRUCTURE
We do our best to emulate the 1st Cavalry Division, 229th Helicopter Assault Battalion as it was in Vietnam. We do this by assigning new members to one of the three troop transport companies: "A", "B", and "C". As you grow with us in flight skills and experience, you can request to join our other support companies, i.e. "D" Company who supports the transports with guns, and our medical detachment company that supports our missions with medevac services.
FUTURE OF THE 1ST CAV DIV
While we are a dedicated Huey squadron, we do fly all modules from time to time and have plans to expand our squadron to include all modules in all our mission designs.
So, are you ready for the best Huey experience on the web? If so, read on... 
We
cannot
accept anyone who's
under 18 years old
... 
If you are 21 or older feel free to read on and find out how to join us...  
Membership FAQ
I am already a member of an another squadron, how can I join ?
That doesn't matter to us. However, we do ask that you not bring your other squadron's drama with you. 
What about the squadron rules ?
1) Be respectful and polite to all members
2) Refrain from posting political or religious topics in the forum.
3) Be an asset to the squadron and contribute to the development of our group. (i.e. designing missions, report DCS news or information on the Huey / 1st Calvary Division, help other members with technical matters such as Teamspeak or computer hardware/software troubleshooting, etc.)
Flight Experience
You don't need any minimum flight skills because we can and will train you to fly the Huey with real world tactics by real world helicopter pilots.
Minimum Time Requirements
We will never demand you spend a certain amount of time flying with us. However, members who are in a leadership positions are expected to dedicate the required amount of time to keep things running smoothly.
How to apply ?
1) Introduce yourself in the
Warrant Officer Candidates Apply Here
(<--link) forum and tell us about yourself, including what state or country you live in--this helps us determine what company you will be assigned too.
2) Click the 'Usergroups' menu option at the top of the website and select 'join Group' (Usergroups > select your group > view information > join group)
Currently we have 4 companies:
A Company for members residing in North America/South America
B Company for members residing in Europe
C Company for members residing in Asia/Australia/NewZealand
D Company specializing in UH-1 Gunships.
3) The Company Commander will accept you as soon as possible, usually within a few hours depending on the time of day you make your request.
4) Once you are accepted by the Company Commander, your name will show up as either, green (A Co), blue (B Co), or red (C Co).
Who are our  leaders?
Headquarters and Headquarters Company:
(HHC/229) Blackjack is the founder
(HHC/229) Skullz is the Battalion Commanding Officer
___TBA______  Executive Officer
(Current Opening available 29Feb2016)
(HHC/229) GunfighterSix is the Battalion Standards Instructor (on leave 03Jun2016)
(HHC/229) Flyer is the S1 Administrator
A,B,C,D, and the Medical Detachment Companies:
(A/229) Hawkeye is the A Co Commander
(B/229) Cib is the B Co Commander
(C/229) Strut is the C Co Commander
(D/229) Xtra is he D Co Commander
___TBA_____ Medical Detachment Company Commander
(Current Opening available 29Feb2016)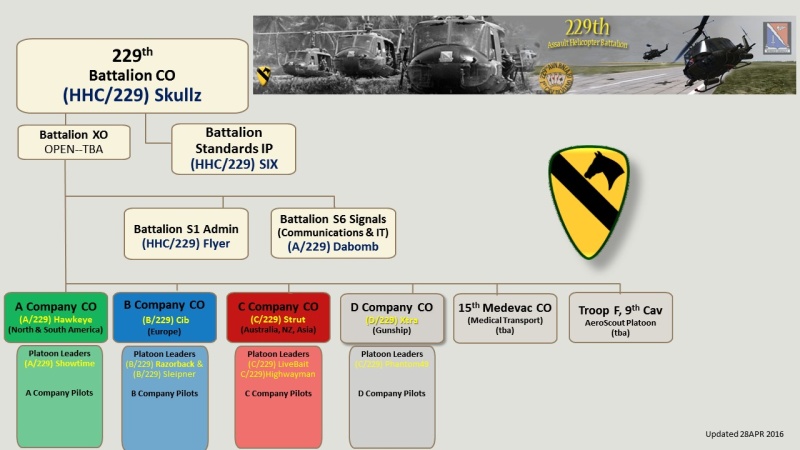 Last edited by (D/229) Xtra on Sun 09 Oct 2016, 10:02; edited 26 times in total (Reason for editing : Updated Information)

(B/229) BlackJack

1stCavDiv Founder




No. of Flights:

: 02


Messages

: 435


Age

: 38


Location

: Nancy (France)





Similar topics
---
Permissions in this forum:
You
cannot
reply to topics in this forum